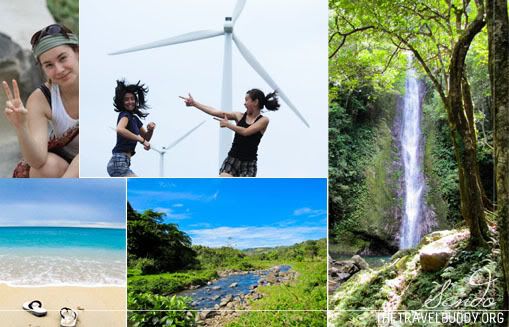 Owing to its palm-fringed sands and crystal clear emerald-blue waters, Pagudpud, the last municipality of Ilocos Norte, classed with the world-famous Boracay, is said to be the latter's explicit variant of the north. Not only the beach and the waters would stop someone in their tracks, the entire municipality is blessed to contain a magnificent spectacle of nature that embodies the typical imagination of a paradise. With the Cordillera Mountain Ranges on one side, and the windmills of Bangui by the coast, Pagudpud lies yet to be a small, humble town, with a lot of charm to show off to its sightseers. So serious and pretty my introduction right? Let's have fun. I'll guide you through. Read on!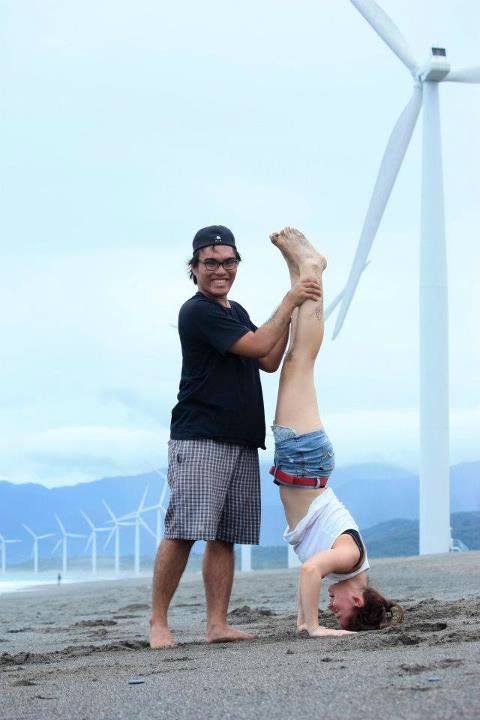 Headstand. Or try it anyway.
Read first or suffer
Posts on Pagudpud, Ilocos
ON THE ROAD:
The Odd One To Ilocos
DAY ONE:
Sights and Scenes | Pagudpud (1)
DAY TWO:
Sights and Scenes | Pagudpud (2)
HOW TO GO TO PAGUDPUD
Pagudpud is the last of the 23 municipalities in Ilocos Norte. It is located northwest of the Philippines, right at the edge of the Luzon entirety. Of course, how could you go there if you don't know the place diba? Here's a map.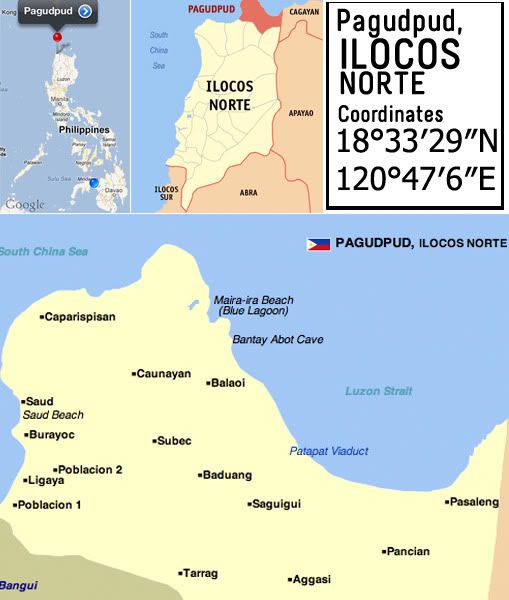 Thank you Google. Thank you Wikipedia.
I know 2 ways. We went to Pagudpud
by bus,
and went back to Manila
by plane.
BY PLANE:
Select among
PAL,
Cebu Pacific,
and
AirPhil
. The flight from Manila to Laoag (capital of Ilocos Norte) takes 40 minutes. Watch out for promotional fares from time to time.
From Laoag Airport (their airport structure is in pretty quaint red bricks by the way), take a tricycle to the bus terminal. Tricycle fares around Laoag start from
PHP11.
From the airport, it's
PHP50 per head for 4 kilometers.
There are no taxis.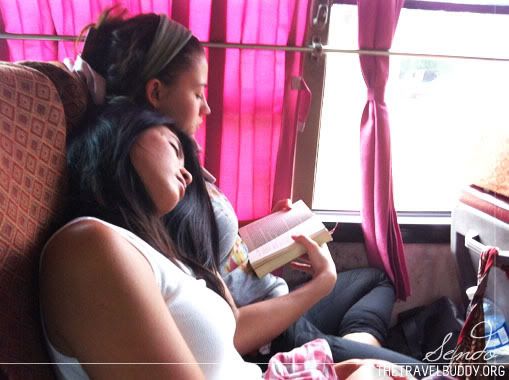 BY BUS:
We actually boarded the bus bound to Ilocos from Dau, Pampanga. It took us 11 hours from there. Manila-Dau 2 hours. So a bus trip from
Manila-Laoag
is roughly 13 hours. Add 2 more hours for Pagudpud. That's effin'
15 hours.
Just smile. I advise you to take the bus at midnight to avoid wasting precious human wakeful hours seated on a bus. Midnight also means less traffic, which in turn leads to shorter travel duration.
Here's a list of bus liners traveling to Ilocos. Take the buses leaving for Vigan or Laoag. In our case, we took Florida bus.
-
Farinas
- Sampaloc, Manila | (02)731-4507 | (02)731-4375 | (02)743-8580
-
GV Florida
- Manila | Quezon City | (02)743-3809 | (02)912-5354
-
Franco Frederico Lines
- Sampaloc, Manila | (02)731-4473 | (02)731-2584
-
Partas
- Cubao, Quezon City | (02)725-7303 | (02)724-9820
-
RCJ
- Sampaloc, Manila | (02}741-2994
Arriving in Laoag bus terminal, hop out and ask around for trips bound to Cagayan Valley. Take that bus. Last trip is at 9pm. If you miss the bus, then read how we held out unscathed
HERE.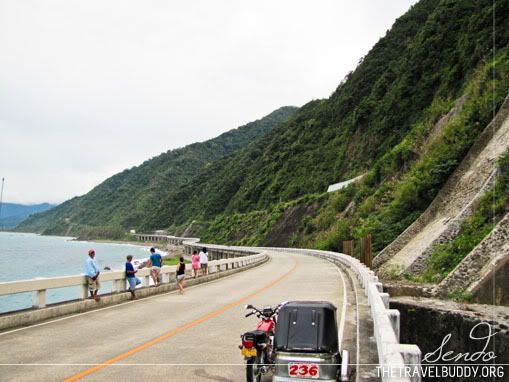 DAY TOUR RATES
Planning a visit to Pagudpud would require you to book a day tour trip.
The landmarks are located 20-30 minutes away from each other by any vehicle that runs at 60kph :P
The local means of moving around from place to place is by tricycle.
Make sure you have booked a day tour trip with the ever reliable
Kuya Arnel.
He's a tricycle driver, the most renowned tour guide among bloggers who's been to Pagudpud. He's incredibly kind, and I can attest to that.
Kuya Arnel will take you around Pagudpud in his tricycle for
PHP1200
divided by 3.
His motorcycle conveniently fits 3. He'll also help you out with the most favorable itinerary there can be with your time and budget.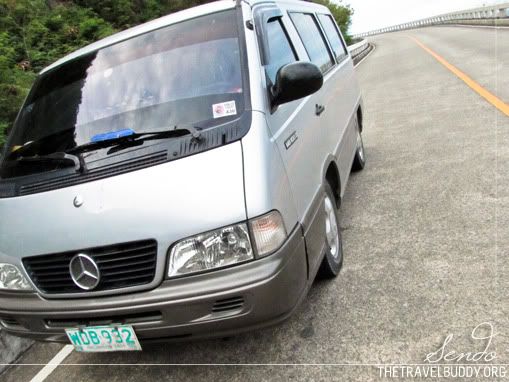 If you're travelling with more than 3 people,
reserve a van.
That's what we did. Kuya Arnel's uncle owns vans for Ilocos tours; so he booked it for us. The van can fit 10 persons.
Rates vary depending on the number of passengers.
We paid
PHP8,000 divided by 4.
That rate included trips going to Vigan and around Vigan.
Then to Paoay and Laoag and around both places. It included the driver/tour guide/Ilokano dialect instructor, Kuya Alvin and his side kick, Ronnie. This was the probably best option for us since the ladies had huge bags (2 for each of them) they couldn't easily carry around as we commuted and hopped on from place to place.
Negotiate with
Kuya Arnel
for the rates.
CONTACT NO. +63-926-588-0666.
Or
Kuya Alvin. CONTACT NO. +63-928-428-9346
WHERE TO STAY?
Along Saud Beach, some inns and cheap hotels are scattered.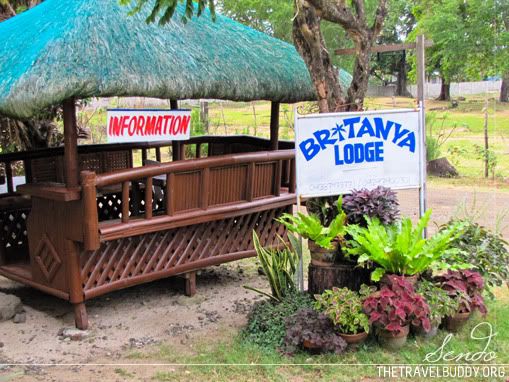 BRITANYA LODGE
We checked in here on our first night.
RATE: PHP1,400
/night/4 pax; airconditioned.
1 bunk bed & a twin-size bed. Without TV. No WiFi.
Clean. Kind and attentive staff. Food not worth the cost but good enough.
They have a videoke if you want to go to Pagudpud to sing. (-_-)
100-meter walking distance to the beach.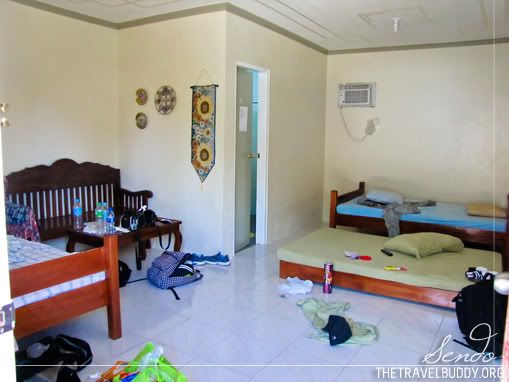 CASA VICTORIA INN
We checked in here on our second night.
RATE: PHP1,000
/night/4 pax; airconditioned.
Extra bed/person:
PHP 100/head
2 beds; each bed can fit 2 persons. With TV. WiFi at the lobby only.
Clean. Accommodating staff. Kind owner. :)
It's a beachfront accommodation, which means the
palm-fringed sands of Saud are just a cartwheel away.
*The room is quite large. Larger than the one in Britanya.
*Larger than the one we checked at Hannah's Resort
*Food menu still limited to fried meals only
*Recently opened (February 2012)
HANNAH'S BEACH RESORT
We had reserved a room here weeks before arriving in Pagudpud. When we checked out the place, we canceled our reservation. Even though the entire place is beautified by pools, some ornaments and life-size figurines of whosoever, the rooms were too pricey given the ones in Saud Beach. Pricey and small. It's located along Maira-ira Beach. Agyamanak na lang!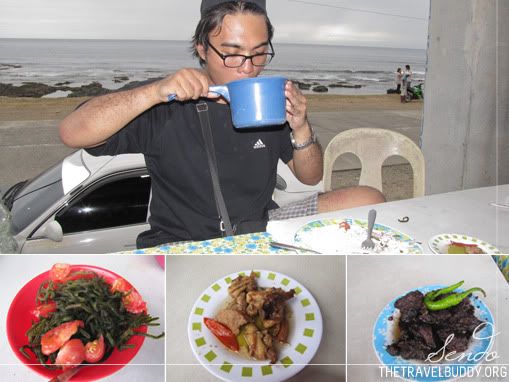 WHERE TO EAT?
If you're going south (Bangui, Burgos, Pasquin) in the morning, you can eat lunch at carinderias (local eateries) along the boulevard near
Cape Bojeador.
They serve Ilocano dishes with names like pukpuklu, dinakdakan, etc etc etc. Each dish costs between PHP80-90. I even still found it a little overpriced considering the serving. But, good enough. It's the cheapest we had had. Taste was so-so. Nothing special.
We didn't see any restaurants in
Bangui and Burgos.
Most of the restaurants are in the town area of Pagudpud, at Saud Beach, and at Maira-ira's Beach. I saw a Japanese restaurant and a Swiss restaurant along Maira-ira Beach. Look around. We didn't see any budget eateries, but probably there are some just around the corner.
EMORHOU
This is the restaurant alongside Saud Beach. It's a restaurant within Evangeline's Resort. Their menu is quite expensive but we had the tastiest fill here while staying in Pagudpud. One dish is already good enough for 2 ladies or for 2 lean men. I didn't take note of the prices, but it was around PHP200-300 per dish. Kinda costly. But I think the price speaks for itself, their dishes tasted great. On our second day, we took out packed lunch and ate at Kabigan Falls. Their pastas are awesome!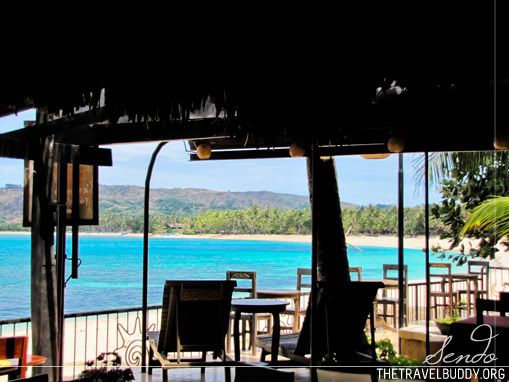 The view from Emorhou Restobar
The staff didn't start out nice and accommodating. They didn't smile on our first dine. They even gave out hints of qualms everytime we asked them something. I just don't like frowning waiters. On the second day though, I tried to joke around. Then I spurred a conversation after uttering a few Ilokano phrases I learned from Kuya Alvin.They thought I was Ilokano. We laughed. I made connection. :P Charing. Later, one of the staff showed me the rooms of their hotel.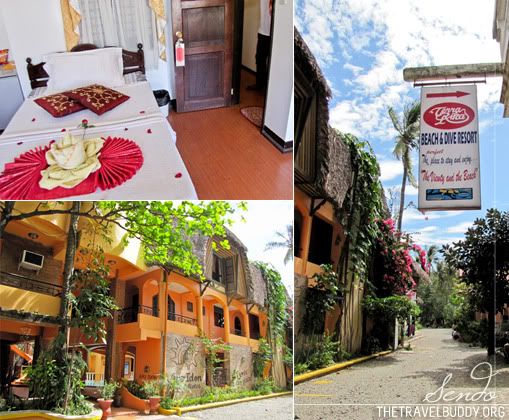 Some other hotels that'll cost you an arm and a leg. Located adjacent to Emorhou Restobar.
WHAT TO DO?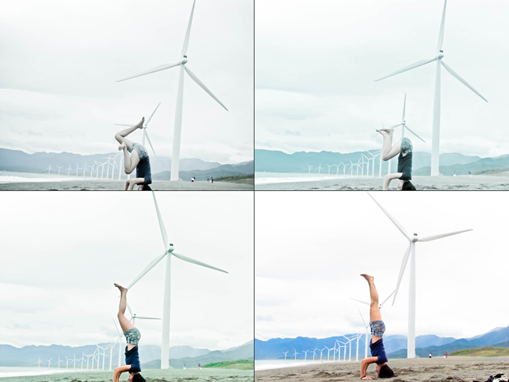 Head stand.
What We Did.
> Lie on the black sands of the Bangui coast.
Windmills available here.
Do Not Touch.
> Feel the surface and texture of the
Kapurpurawan rock formations.
Then stand at one edge of the platform and shout anything you like.
> Get some tamarinds before going up the 120-year old rustic
Cape Bojeador Lighthouse.
Lie around. Take a siesta if time permits. :P
> Goof along
Patapat Viaduct
and learn where the bridge leads and what it connects
> Observe the coast and drool over the scenic landscape of Pagupud from the
Bantay-Abot cave
> Burn, swim, and lie around
Saud Beach
>Enjoy the nature and the wonderful scenery on the way to
Kabigan Falls
> Eat at
Kabigan Falls
, plunge, and recognize the full worth of the greenery and nature
> Eat at Emorhou and try to make the locals smile by saying a few Ilokano greetings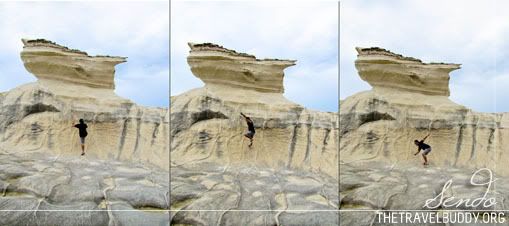 Jump and slide!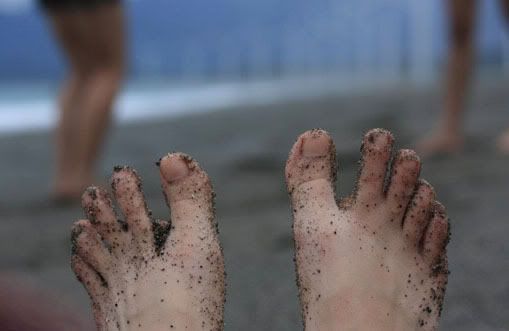 Lie on the sand.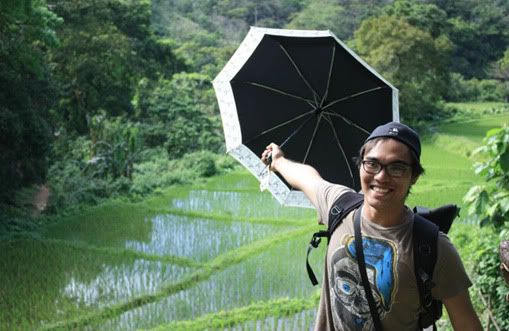 Throw your umbrella? Eh?
What We Missed.
> Surf and Paddle at Maira-ira Beach
> Islet hopping (?) to Dos Hermanos
> Hike Nacatnagan Cliff
> Kayak along Bolo River
*Ask the locals about this.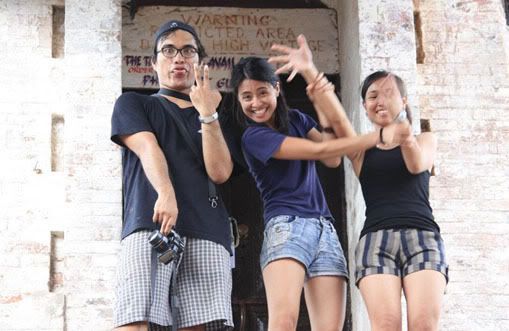 Make faces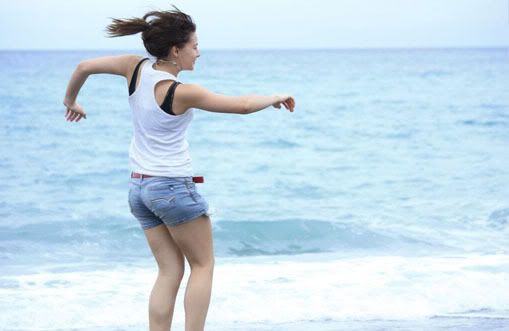 Dance with the waves
How to Say
Some Ilokano phrases I learned from Kuya Alvin.
Agyamanak - Thank You
Naimbag nga aldaw - Good day
Naimbag a bigatmo - Good morning
Naimbag a malem - Good afternoon
Naimbag a rabii - Good afternoon
Ay-ayatenka - I love you
Dispensaren - I'm sorry
Agpakadaakon - Goodbye
Got questions?
Skype me! Or Gmail! :)
Credits: Photos without watermarks by Sarah Boese
Note: Travel period dates back from February 13-15, 2012. Some rates and other details may change willingly, accidentally, incidentally, or due to uncontrollable forces of nature without prior notice.
Thank you.
Read previous posts of this series.FROM NORTH TO SOUTH
(1)
Hot Air Balloon Festival
(2)
Guns and Aircrafts
(3)
Trekking Mount Pinatubo
(4)
Experience | Pinatubo
(5)
The Odd One to Ilocos
(6)
Sights and Scenes | Pagudpud (1)
(7)
Sights and Scenes | Pagudpud (2)
(8)
A Guide To > Pagudpud