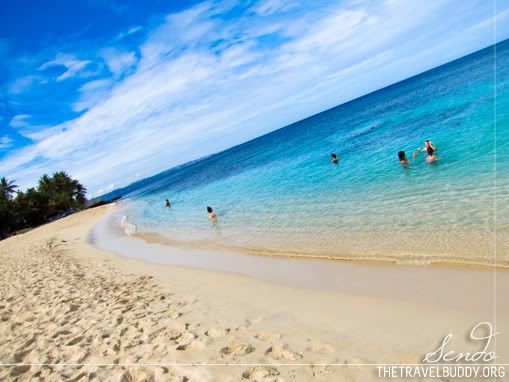 SAUD BEACH
Fast forward to Day 2. We stayed overnight at the newly opened Casa Victoria Inn. The rooms were really cheap
(1,000 room for 3 + 100/extra person)
as of February 2012. The owner was so kind and attentive to our needs. Our room was larger than the one we checked at pricey Hannah's Beach Resort along Maira-ira Beach. Plus, it's just one cartwheel away from the beach. :)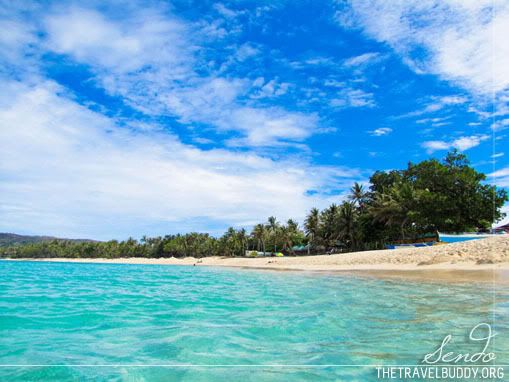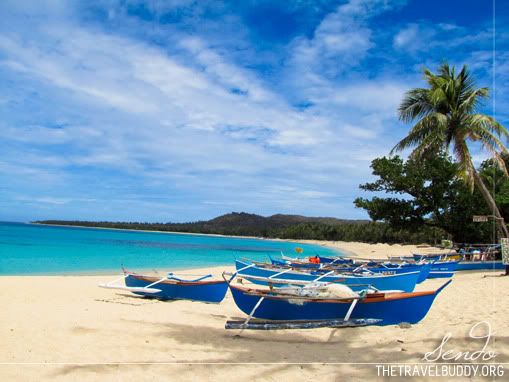 The weather was much better than the
first day
. So we woke up to a clear, blue sky and on a cheery daylight. The waters, at its brightest emerald. We spent like 2 hours sun-drenched. Well, as expected, the Aussies enjoyed scorching. If my skin was just as porcelain as theirs, I could have stayed under the heat longer.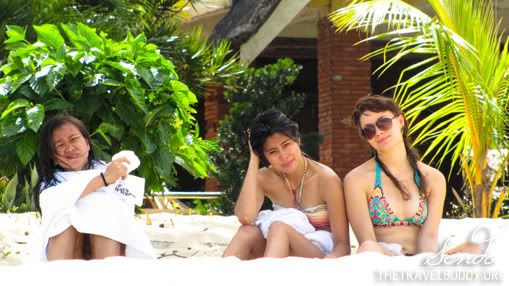 Porcelain-skinned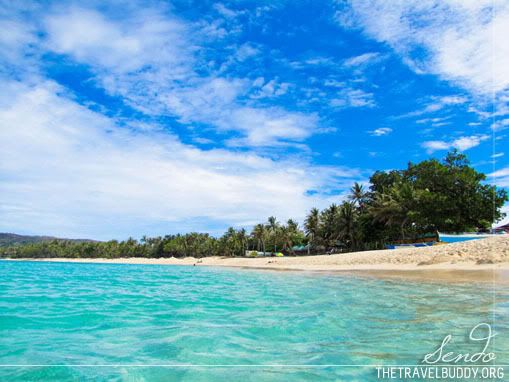 WHY VISIT THIS PLACE?
Saud is a pretty beach. The sand, palm-fringed. The sea, emerald-blue. It's a relaxing place. Walang distorbo. No disturbance. みだれない。방해하지마. This is also the side of Pagudpud where you'll find reasonably priced beach front accommodations and some decent restaurants.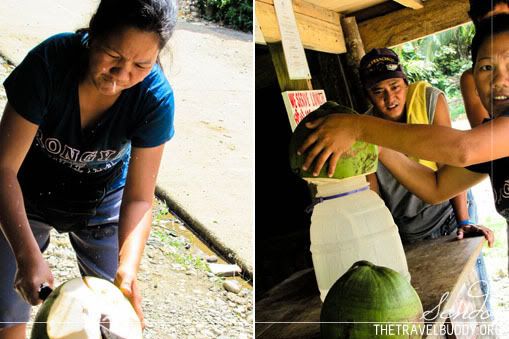 KABIGAN WATERFALLS

After taking out some packed lunch from a restaurant by the shore called Emorhou, we hit the road for Kabigan Falls. It was so hot, we had to buy BUKO JUICE along the way to survive the heat. Sarah seemed to have enjoyed
Ate
I-forgot-her-name-again shearing off the husks. Cathlyn must have seen some of this action prior to her migration to Australia. She didn't seem entertained.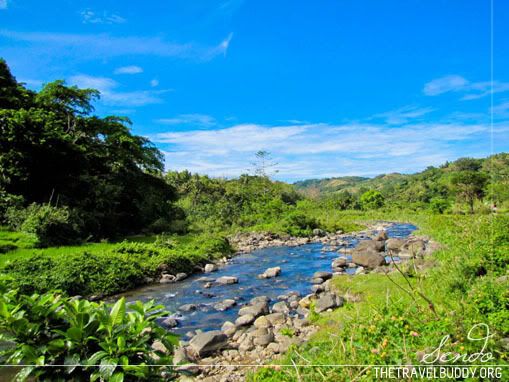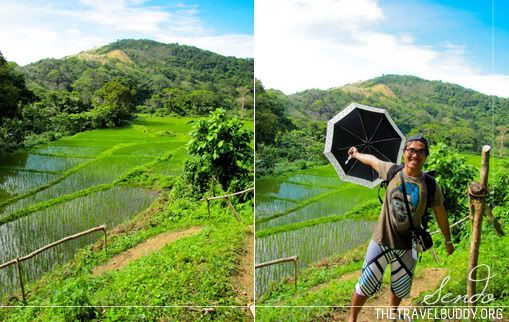 Which is prettier: the view or the umbrella? Or me? Nyaha!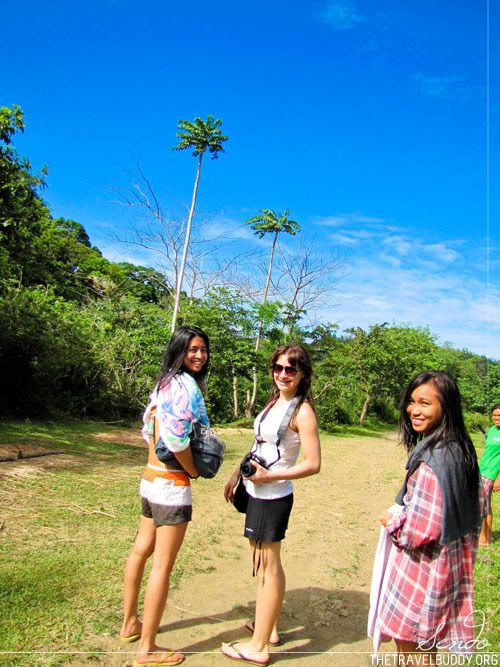 Define pretty.
The trail to the waterfall takes 30 minutes at normal human speed. And the view along the way is a fancy, the typical Filipino landscape. Sarah loved it. I loved it too! Green fields, carabaos, coconut trees, bigger trees of which names I don't know, valleys and rivers. Just wonderful.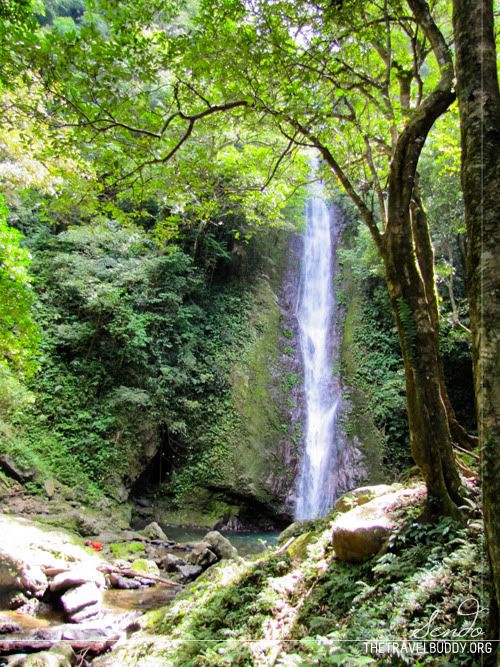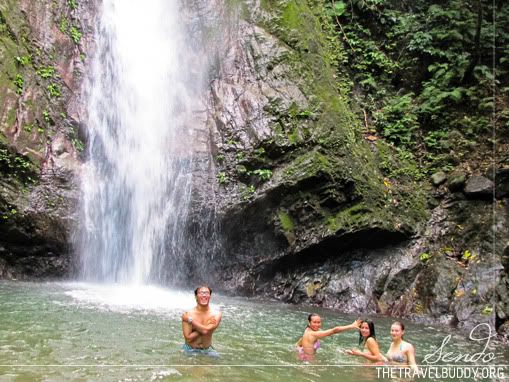 I'm shy with my gynecomastia. Research that! :P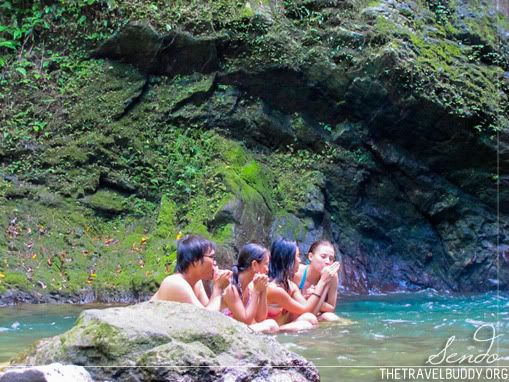 Girl! Teach me to palm whistle, if that's what it's called in English.
We unpacked the lunch we took out and filled ourselves at the sight of the waterfalls. It's pretty. We were surrounded by a full-throttle display of trees and greenery. For 30 minutes, we found ourselves plunged in the shallow waters of Kabigan.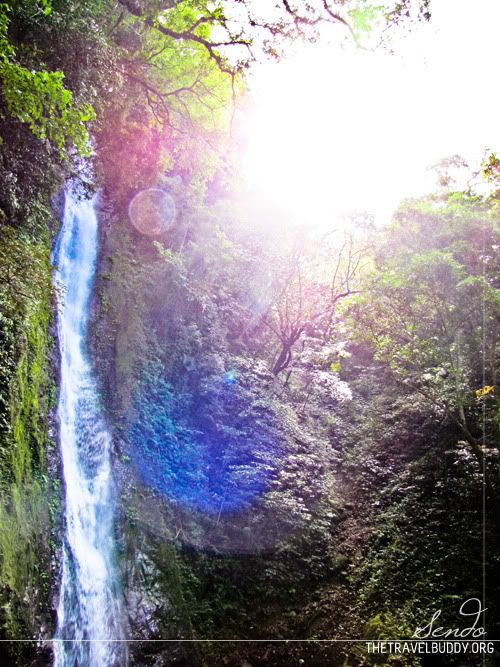 WHY VISIT THIS PLACE? Who doesn't love nature? People who's spent their entire lives doused in the suburban can hang loose here. Chill dude! A tour guide shall be an obligation for any tourist, brute or feeble, for a meager fee that won't poke holes to your pockets.
The next thing we had to do was bid goodbye to pretty Pagudpud.
There are a lot of things we missed to do. Reasons. To save up for a comeback.

One thing for sure, Pagudpud is a paradise to anything green and blue and natural. The colors of nature here are just explosive. It's quiet; everywhere you turn is serene. It's one of those few places in the country that can yield inner peace to its maximum...I guess, :P. The people are kind and welcoming, and their dialect is lovely. I've got to learn a lot of words from Kuya Alvin I can make use for my next visit.

At 1pm, we hit the road for Vigan. Vigan, I tell you, is even prettier!!! :)
Napintas na lugar ang Pagudpud!
END OF PAGUDPUD DAY TWORead previous posts.

FROM NORTH TO SOUTH
(1)
Hot Air Balloon Festival
(2)
Guns and Aircrafts
(3)
Trekking Mount Pinatubo
(4)
Experience | Pinatubo
(5)
The Odd One to Ilocos
(6)
Sights and Scenes | Pagudpud (1)
(7)
Sights and Scenes | Pagudpud (2)