The bus ride from Pampanga to Ilocos went on for 11 long hours. We were aware about wasting a day of the itinerary sitting and exchanging blank stares for the whole trip. There was nothing much interesting along the way except for good-tasting treats from vendors coming in at bus stops, weird-looking people, and those cute twins seated behind me that day.
After some cycles of fitful, wobbly naps, food, and toilet breaks, we finally reached Laoag, Ilocos at 7pm. But Pagudpud, our main destination for that day, was still 2-hours away.
The last trip passing by Pagudpud would leave at 9pm. We had 2 hours to kill and we only had eating in mind. Since we didn't know much about Laoag, we banked on a tricycle driver's suggestion on where to eat for dinner.
A nearby carenderia killed the hours to wait. Laoag seemed pretty and peaceful I reckoned. The tricycle ride just showed me a portion of it. The people seemed nice too. And the Ilocano dialect, gentle.
Sarah had her taste of vegetarian preferences. I had my fill. Killed more time waiting. The girls had freshened up. Transferred files from camera to hard drive. Exchanged stories. Killed more time. Thirty-minutes before 9, we went back to the bus terminal.
This was the moment I felt my spine crunch. I thought I'd already break it for one more ride until we learned that the last bus for the day was already full. There was not much enough space to force ourselves in. Even the aisle was jam-packed. The next bus would leave the next day.
Back in Pampanga, I knew we were already behind schedule. We should've departed earlier than 8am.
I gave up to the thought of staying overnight in Laoag then wake up early again for Pagudpud. But the girls wanted to take a break from the early morning streak. I had thought it over. I also wanted to sleep forever. After that Pinatubo trek and this day's sitting contest, we still seemed to have not recovered from the energy drain yet. It was so unusual of me. I just don't run out of energy like that. :P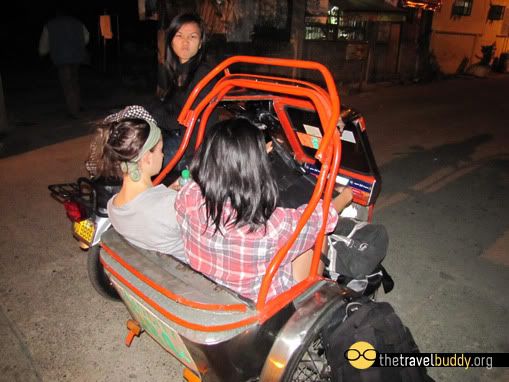 A few minutes later, some tricycle drivers approached us to help deliberate. Pagudpud was only 2-hours away. And one driver offered to bring us there. We bargained. After securing our bags in place, we hit the road in what appeared to be like a convertible tricycle cab.
It was nearly 10pm when we left Laoag. Some roads were under construction, so the trip was even wobblier than the one with the bus. Some areas didn't have post lamps that we had to take toilet breaks in the middle of pitch-blackness. Anything could've happened being in an unfamiliar road. The whole thing seemed odd since it was my first time commuting on a roofless tricycle cab for 2 hours in an empty road. For the experience, I think it was fun.
Manong driver told us earlier that he knew where our hotel was (Hannah's Resort). But when we arrived in Pagudpud, it turned out that the he didn't know which road to take. Since it was so dark and windy and the whole town was sleeping, we decided to just stop over at any hotel we could find. There were too many sign boards, so we just checked in at the first inn we saw. Britanya Lodge. We were so tired we didn't bother to check the rates.
After droves of twists and turns with this road trip, I couldn't think of anything else but blank out right away at the sight of the bed. We were safe. Thank you Lord. We're finally in Pagudpud. That's all that mattered.
Read previous posts.

FROM NORTH TO SOUTH
(1)
Hot Air Balloon Festival
(2)
Guns and Aircrafts
(3)
Trekking Mount Pinatubo
(4)
Experience | Pinatubo
(5)
The Odd One to Ilocos