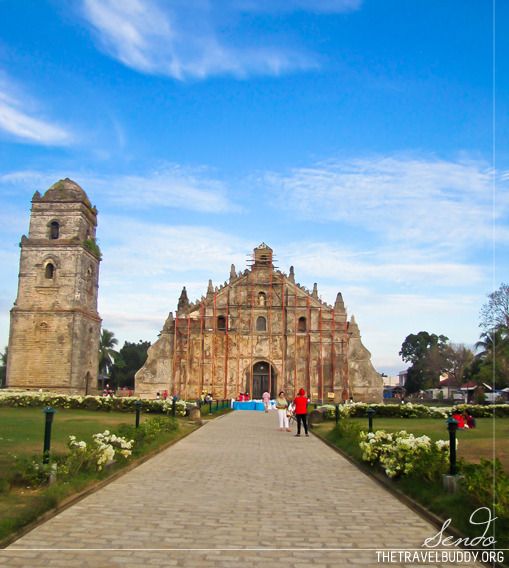 Probably, for a local traveler who knows his country better than any outsider, the return of a lost item left somewhere in an unfamiliar town is quite unlikely. This was not the case when we dropped by the beautiful St. Augustine Church in Paoay to see for ourselves how it's different from the hundreds of Roman Catholic churches we've seen, and why it is labeled as "Earthquake Baroque" by architecture. At the outset of the stopover, I thought I would just get to see a UNESCO world heritage. Never did I think about meeting a guy who would make amends of my carelessness and help me realize how warmhearted Ilocanos are with just that one act of kindness and integrity.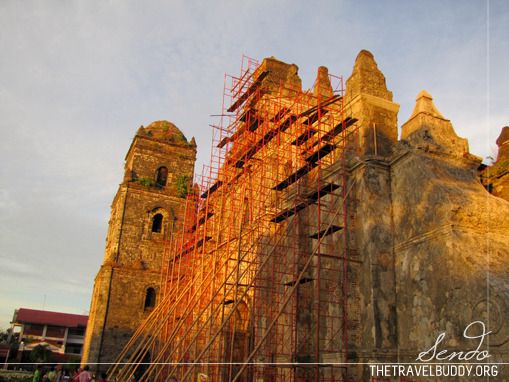 Some unfinished repairs going on that day, hence the messy poles
We left off from Kabigan Falls in Pagudpud, reached Paoay in an hour and saw the marks of the 15th century. Our arrival at the place was timely. The sun was halfway to setting down at 5.00pm, giving a goldenish glow that layered the structure before us. Quite impressive, I thought, as it's the first church I've seen of its kind.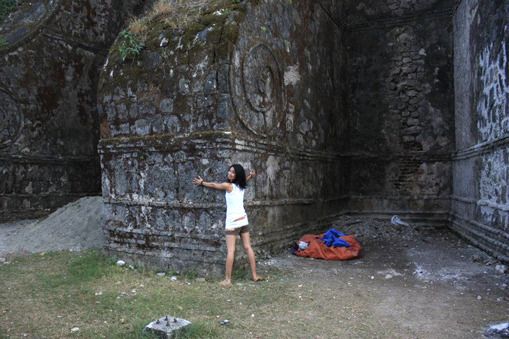 The first thing I've learned of the church prior to this trip was its association to a baroque architecture. And I didn't really know what baroque meant until I wiki-ed it. Having stood for centuries barely damaged, the framework---from the pentagonal facade to its bordering buttresses---calls out the reason for its recognition as an "Earthquake Baroque". I got to appreciate it even better as I got closer feeling its sturdiness...and Cathlyn feeling it with a hug. :P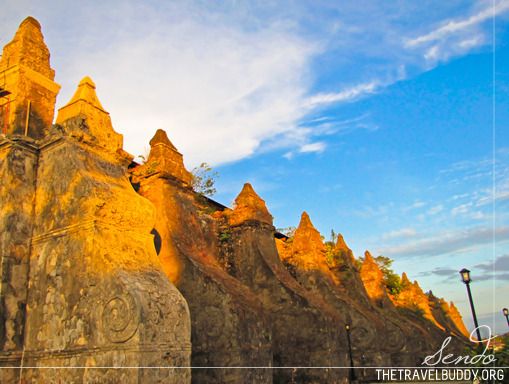 From the looks of it, the projecting supports on the sides resemble that of some Khmer temples I've seen before on books. That's what I thought until having found out that it's actually Java-inspired with the Borobudur temple coming into mind as its close resemblance.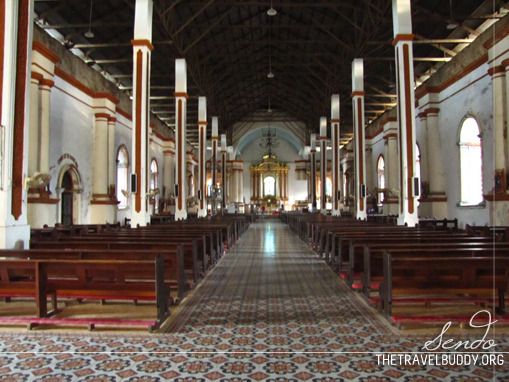 Everything from the outside looks centuries old while the inside has been renovated to better fit a growing mass of devotees. Despite the antiquity that covers it, the church seems to lack the awe factor in its interior unlike the Manila Cathedral or the Basilica Church in Cebu.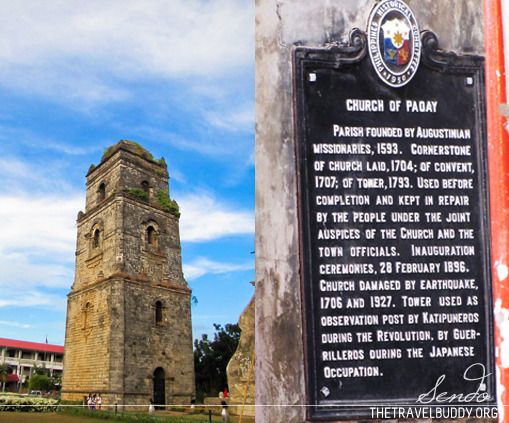 Against several adversaries, the Katipuneros used this bell tower as an observation post.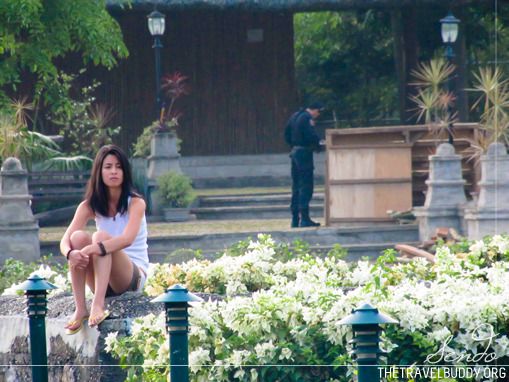 Cathlyn along the flower-fringed aisle in the park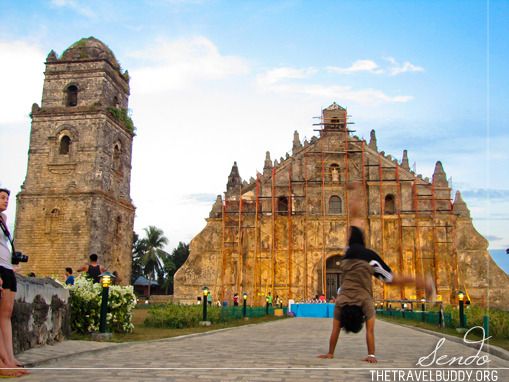 Last snapshot prior to the missing bag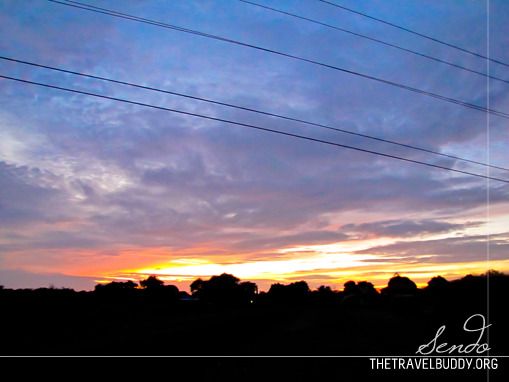 We took off for Vigan at 6pm after a good view of Paoay's most visited landmark. Stopped over for a few minutes with this fiery scene coming into view along the road. It was all good until I started looking for my iPhone's USB cord and realized that my sling bag was missing. Thirty minutes and some few kilometers had passed since departure, but surprisingly, I didn't feel any panic and just asked our driver, Kuya Alvin, to turn back.
"Wala na siguro yun". His words weren't really all comforting but I tried to assure myself that I would retrieve it. I had never taken off that bag probably until I did a cartwheel for a snapshot. When I remembered that all of my money, ATM, and my license cards were in it, I started to feel a bit worried. Anything was possible, and losing all of those was most likely to happen.
While on the way back to Paoay, I browsed through my phone and found
2 Timothy 4:18 - The Lord will rescue me from every evil attack and will bring me safely to his heavenly kingdom. To him be glory for ever and ever.
This was the verse that kept me hoping for the better light. God wouldn't forsake nor leave me penniless. I was convinced from then that I'd find that bag. And yes I did.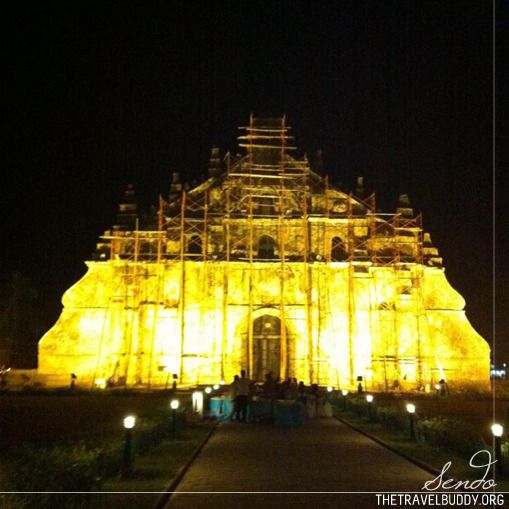 7pm. The church glowed against the dark. I hurried to the last spot where Jenty took a photo of me flip myself sideways. Two men were on sight digging for something from what looked like a bag. One of the guys saw me drawing near and recognized the guy from the ID he was holding. Whew. What a relief! The last thing I expected to meet was a guy who would find and return my bag. He told me that he found the bag just a few minutes before we spoke, then asked me to check inside if there were some stuff missing. I went all mushy and teary-eyed and all smiles as I embraced him in gratitude. :P
God is awesome. I must have uttered all words of thanks to the man before I finally got his name, Roel Cabodayao, a police officer who was doing his rounds in the park that night to look after a group of senior citizens on a banquet celebration.
Of the many strangers wandering around the park that afternoon, who would think I'd still retrieve my bag? Everyone in the van was all negative about it. I admit I'm kind of reckless really. And for several times, I've lost items during trips within the country, and the return of a missing property is quite unlikely. But I stood firm believing for God's intervention that it wouldn't be that case. With God's rescue of me that day, I saw His glory shine through the church. Yeah like that---blah---God is just awesome, ayt?
P.S.
You've gotta go to Paoay, that is less than an hour by car from Laoag, and a good 1 hour ride to and fro Vigan, if you want to see for yourself what a baroque church looks like.
Note: There are other 3 baroque churches elsewhere in the Phil. Search. :P
Read previous posts of this series.FROM NORTH TO SOUTH
(1)
Hot Air Balloon Festival
(2)
Guns and Aircrafts
(3)
Trekking Mount Pinatubo
(4)
Experience | Pinatubo
(5)
The Odd One to Ilocos
(6)
Sights and Scenes | Pagudpud (1)
(7)
Sights and Scenes | Pagudpud (2)
(8)
A Guide To > Pagudpud