The moment I set foot on those cobbled flooring and set eyes on everything seemingly ruined, shabby, and cobwebbed, I knew I was in the country's most preserved Spanish heritage, Vigan. I guess this is the only place in the country that'll make any Filipino live back the Spanish colonial period and reflect on how our ancestors sustained the place from generation to generation. Quaint and attractive---and yes, so pretty :P
SKIP TO:
(1)
Eat?
|
(2)
See?
|
(3)
Sleep?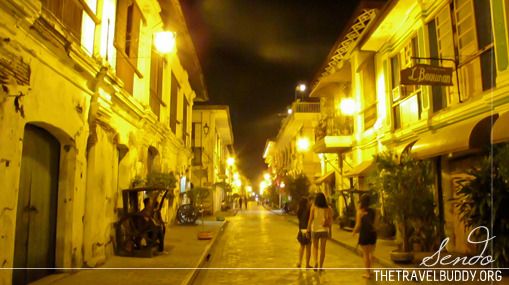 Although overwhelmed with my
lost and found bag back in Paoay
a few hours before snapping this timeworn cluster, I couldn't help but think about crashing to the nearest restaurant to grab some bite. After all, we had been through probably the longest day since Day 1 of this
travel series
hopping from town to town in the coaster van. Today, alone, it was like:
7am-8am - Early plunge and beach stroll at
Saud Beach, Pagudpud
8am-9am -Breakfast, Pack-up
9am-11am - Sunbathe (except for me since I was just on a shaded corner bathing in sunblock)
11am-12nn - Check out, take out lunch, travel to
Kabigan falls
12nn-2.30pm - Trek to Kabigan falls 30 minutes back and fourth, plunge, eat lunch, linger
2.30pm-4pm - Travel time: Pagudpud to Paoay.
4pm-5pm - Marcos' Mansion
5pm-6pm -
Paoay Church
6pm-7pm - Turnaround to retrieve the missing bag
7pm-8pm - Travel time to Vigan. *note* - yes, our driver was driving slow [ -_- ]
Cafe Leona
|
tinyurl.com/9owo2ak
|
SKIP TO | See | Sleep
And then came 8pm, 7 hours after our last meal. We hurried to our confirmation and checked-in at
Grandpa's Inn,
dashed to the toilet for split seconds, then took off for dinner.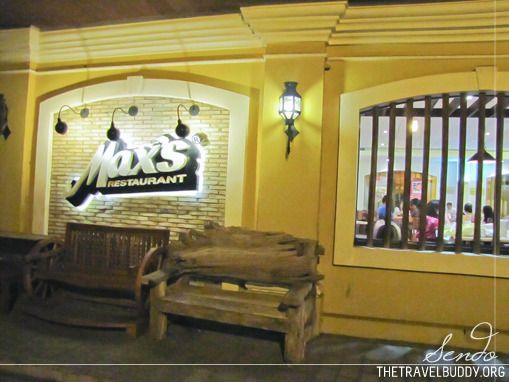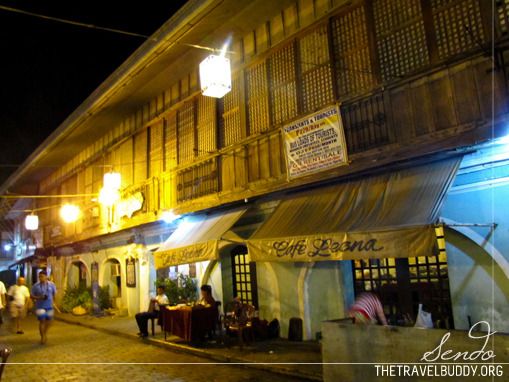 The nearest ones we found were some food chains like Mang Inasal, Max's and McDonald's, a good 2 minute-walk from Grandpa's Inn. I was actually surprised to see these food outlets in Calle Crisologo. Despite the modern establishments, the tourism committee has kept the antiquarian style from the outside to at least maintain the old-world feeling within Calle Crisologo.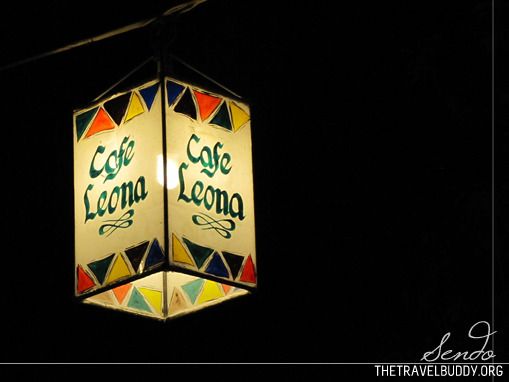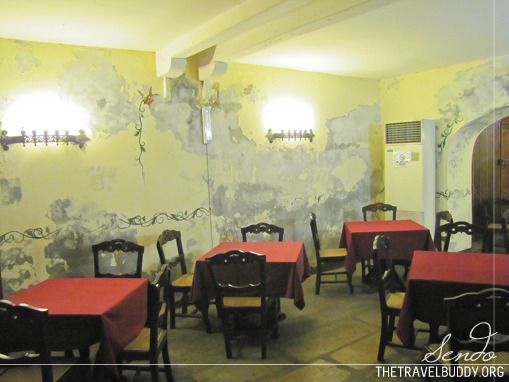 A stone's throw away from Max's is
Cafe Leona
which serves Ilocano versions of long-known Filipino staples like bagnet, longganisa and sinanglao. To make the long story of famished travelers short, queuing for food orders in
Cafe Leona
was fast. The staff was amazingly all-smiles and attentive, and the food (based on what I ordered) was fantastic. Thumbs and big toes up to their longganisa.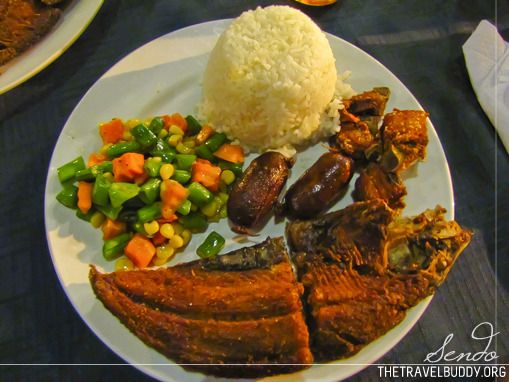 THIS WAS THE "ILOCANO" MEAL SET WITH BAGNET, LONGGANISA, & BANGUS ON
ON PLATE, & THE SUPPOSEDLY PINAKBET REPLACED BY BUTTERED VEGGIES.
Since I delayed the gang due to my bag
(STOPOVER | PAOAY)
, and because I was just so overwhelmed for how God intervened on this day, I paid for dinner. Just paying it forward. From blessing to blessing. :) Because God loves a cheerful giver - 2 Cor. 9:7.
Surprisingly, this restaurant also serves Japanese cuisines from their menu. So it's like a Japanese, European, Filipino restaurant --- 3 in 1.
Calle Crisologo
|
SKIP TO | Eat | Sleep
Sendo's Girls - Haha.
So the next thing we did was stroll around Calle Crisologo on foot. No more
calesas
at 10pm, and most stores were already closed and closing. We were tired and couldn't move on to the next parts of the old-world village to sightsee. We thought one street alley was good enough to take time ponder about how the old times felt like in incandescent glow.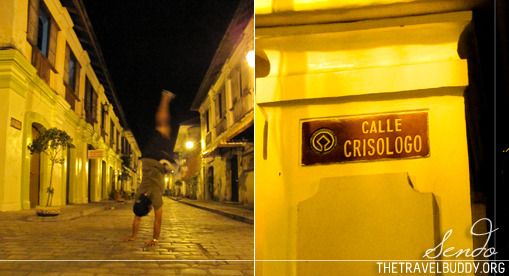 Since I was running out of shirts to wear, I bought this one Cathlyn picked.
BECAUSE SHE THOUGHT I EAT LIKE A DINOSAUR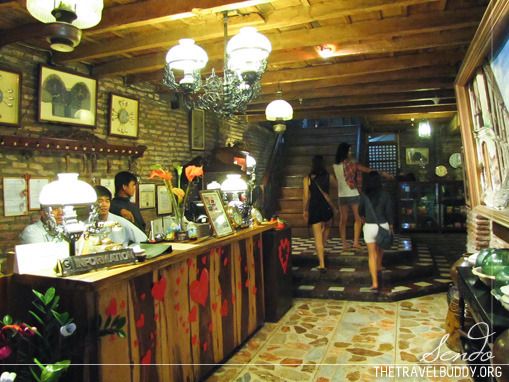 Grandpa's Inn
|
grandpas-inn.com
|
SKIP TO | Eat | See
After maybe a good 30-minute stroll, we were almost ready to hit the bed. Grandpa's Inn is just a minute-walk from the cobblestoned streets of Crisologo.
Grandpa's Inn
isn't really a budget accommodation. The reason why I booked it was because of their
calesa beds.
Yeah. Their calesa beds. I wanted to sleep on a horse-drawn-carriage-inspired bed for
PHP2680
a night divided by 4--yeah, like that. It was really comfy, just the kind we'd need after a long day. Also, I wanted my Aussie travel buddies to feel Spanishy with everything they encounter in Vigan. Well, in this case, they had to sleep in a colonial Spanish inspired accommodation.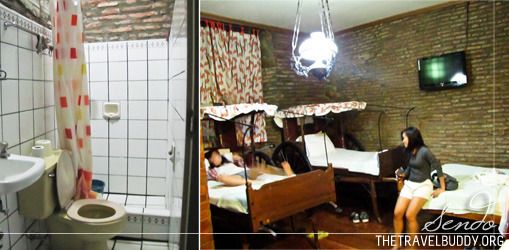 The room wasn't that big for the rate. Plus, the toilet bowl was so close to the wall it would hardly fit me if I were 20kg bigger, lol. I was 74kg that time---no..k fine, 75kg, with kind of a huge body-built, maybe pre-obese but still looking good, and I just had the hardest time trying to comfort myself in a room that's supposed to comfort people. But blah, if that was how the 18th century toilets looked like, then I must have really paid for the full-package.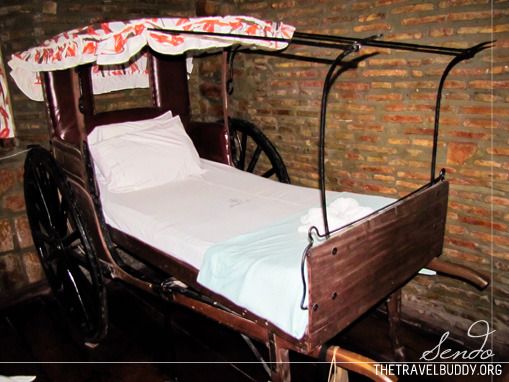 Well, the bathroom was all functional anyway, so it was all cool. Not big-a-deal.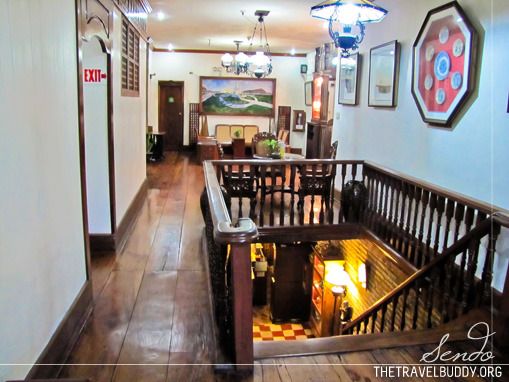 The sala, as how the Spaniards would call it, will also bring guests to a typical middle-class living room. In olden times, social status could be determined by the material one's house was built in. A cement built, for example, would connote that of a well-off family, while a wooden house would belong to the middle-class group. Today, it depends on the type of wood :P
Some antiques you'll find around the sala, including a painting of Grandpa's Inn.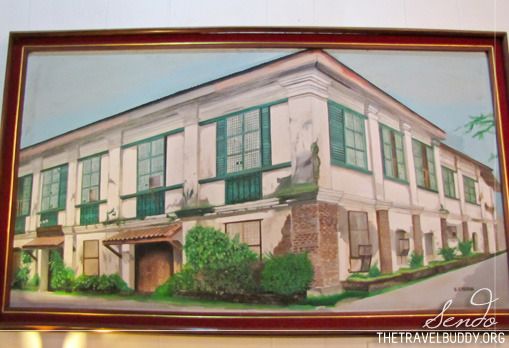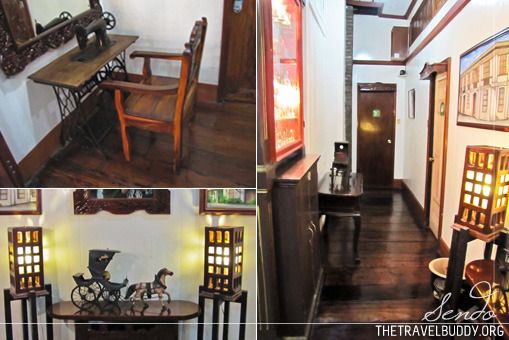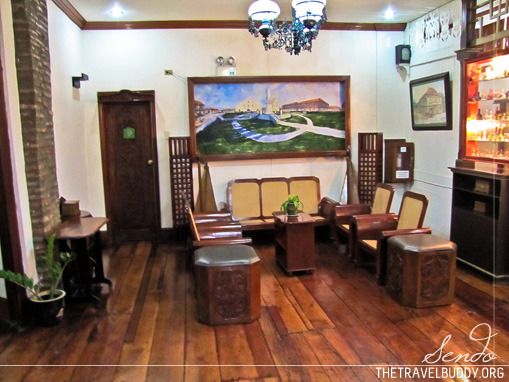 This blog post is just about our first night in Vigan. I was really impressed; indeed quaintly attractive. More of Vigan on my next post, plus questions like "how", "how much", "where" and "what" soon. :) HOWKEY??
Lights off!***
WHERE TO:
(1)
Eat?
|
(2)
See?
|
(3)
Sleep?
MISSED SOMETHING?Read previous posts of this series.FROM NORTH TO SOUTH
(1)
Hot Air Balloon Festival
(2)
Guns and Aircrafts
(3)
Trekking Mount Pinatubo
(4)
Experience | Pinatubo
(5)
The Odd One to Ilocos
(6)
Sights and Scenes | Pagudpud (1)
(7)
Sights and Scenes | Pagudpud (2)
(8)
A Guide To > Pagudpud
(9)
Sights and Scenes | Pagudpud (2)
(10)
Stopover | Paoay